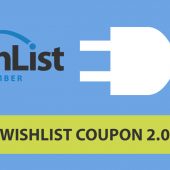 Wishlist Coupon 2.0 allows you to offer discount coupons which can be applied when users purchase membership levels.
The coupons can be easily added to any post or page using simple shortcodes and you can customize the coupons according to your needs.
You can set the coupons to be valid only for limited number of days/ for limited quantity or for limited number of days after registration.