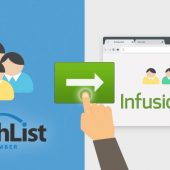 Fully Automate Your Membership Site Today With The Power Of WishList Member and Infusionsoft:
Automated WishList Member Account Creation
Central Membership Control Using Infusionsoft
2 Way Communication Between WishList Member & Infusionsoft
Exclusive Features of Wishlist Member for InfusionSoft:
Set it & forget it account automation – Automate Membership Setup so that once a member has purchased, their membership account is set up automatically.
EZ add shortcodes – Add any data from Infusionsoft into your Members' Area with our EZ Add Shortcodes .
Allow members to reactivate memberships easily – Your Members can now reactivate their membership with a click of a button inside your Member's Area.
Create memberships on multiple sites with 1-purchase – Give access to as many membership sites as you want, all with a simple setup, when your customer purchases.
Show / hide content based on tags – Customize your content to personalize and deliver the precise message to any tagged contact.
Extremely optimized for minimal saver load – WishList Member For Infusionsoft is optimized for minimal server load and minimal API calls to Infusionsoft.
Super simple member import – Using the EZ Add Shortcodes , create custom Profiles for your members inside WordPress.
Create custom profiles in minutes – Import your existing WishList Membership into Infusionsoft with a press of a button.
Check Wishlist Member for InfusionSoft