Wishlist Member SamCart Integration – Complete Overview

June 1, 2017

1 Comment
SamCart has become a very popular shopping cart among our Wishlist Member customers.
The integration works for stand-alone products and for products that are part of a funnel created within your SamCart account.
Integrating SamCart with Wishlist Member is easy and takes only minutes to complete.
Wishlist Member SamCart Integration In 5 Steps
In this post we go over the complete integration process of Wishlist Member and SamCart in 5 simple steps:
Step #1:
Go to Wishlist Member plugin » Integration tab » SamCart
There you need to copy the Blog URL and API Key information and paste it in SamCart as explained in Step #2: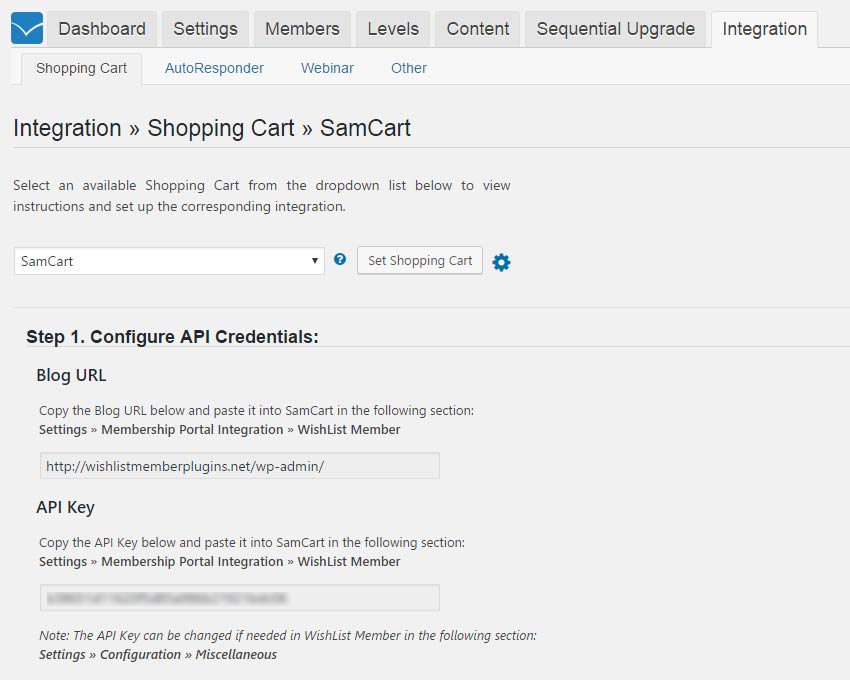 Step #2:
Go to your SamCart account »Settings » Membership Portal Integration » Check the Wishlist Member button and paste the Blog URL and API Key from your Wishlist Member website (Step #1).
Once you save this information Wishlist Member and SamCart will be able to "talk" to one another and the relevant information will pass from SamCart to Wishlist Member when someone purchase a membership to your website.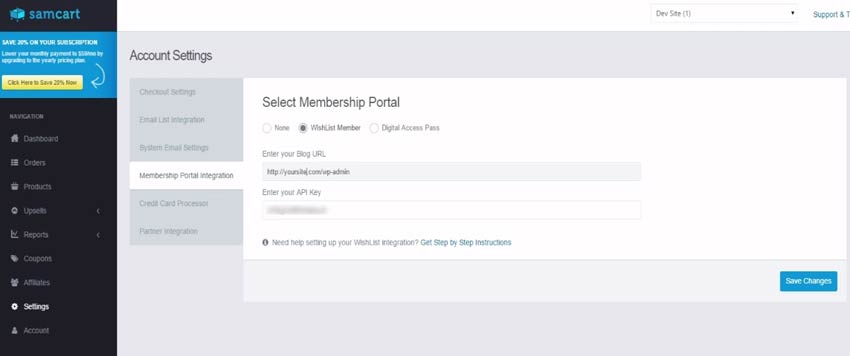 Step #3:
After completing the integration you will need to create a product that is tied to the relevant membership level.
Within SamCart go to Products » Add a new product / edit an existing product:

Step #4:
Inside the product you can fill-in the information you want.
The fields that are relevant to Wishlist Member is the Thank You Page URL which is the page members go to after completing the payment inside SamCart. This page needs to be unprotected.
Note that SamCart automatically creates a Wishlist Member account when the member completes the payment, so he does not need to fill-in the regular Wishlist Member registration form, the username and password will automatically be created and sent to them via email.
We recommend adding a note to members inside the thank you page that says something like: "Your purchase was completed successfully, to get your username and password please check your mailbox", and also, include a link to the login page so they login to the members area.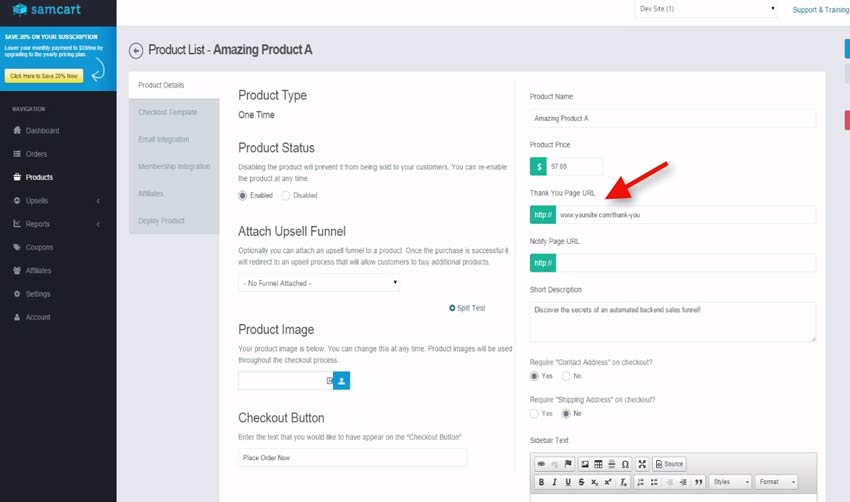 Step #5:
To integrate the product with a specific membership level to go to the Membership Integration tab and select the relevant membership level for the product you just created: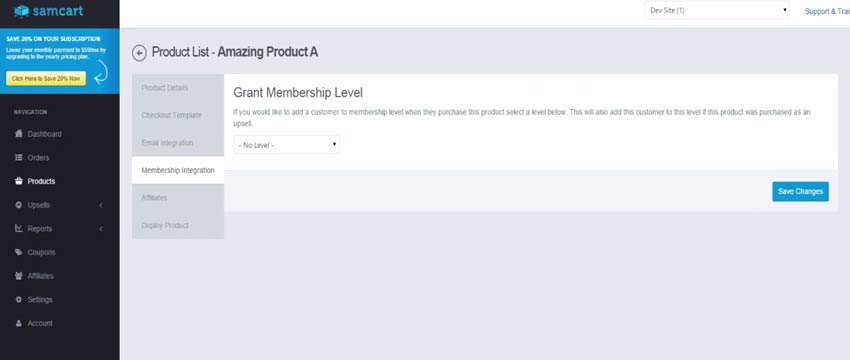 That's it! The integration is all set and you can start selling memberships using SamCart payment gateway.
Relevant Links
SamCart 14-Day Trial Account – Get 14 days of SamCart Pro 100% FREE. No contracts, downgrade or cancel your account at any time!
Wishlist Member SamCart Video Tutorial – Check the SamCart Wishlist Member Integration video tutorial