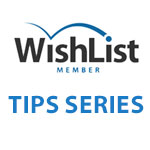 Wishlist Member is a great plugin for managing membership site, however, it contains many different settings and options and it can take some time to get to know all its options, even if you have been using it for a while now.
That is the exact reason why we created this next tip for you!
In this tip we collected different settings within Wishlist Member plugin that will make your life much easier.
Using these features you will save yourself valuable time in managing your membership site.
Register for Free to Get Access

Register to our FREE membership on the form to your right and get immediate access to this tip and to all the upcoming tips about Wishlist Member.