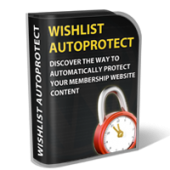 Wishlist AutoProtect plugin will make you life easier if you ever wanted to protect your content after posting it on your membership website or if you ever wanted to move your content protection from one level to another then Wishlist AutoProtect may be the right solution for you.
Let's take an example: You want to publish a bonus on your website but you only want it to be publish for two weeks and then move it to a protected level.
If you are not Wishlist AutoProtect your only option is to do it manually. You will need to  remember the date and time you want to protection start and change it by yourself manually.