Wishlist AutoProtect

November 29, 2011

1 Comment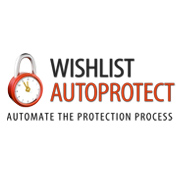 Wishlist AutoProtect plugin will make you life easier if you ever wanted to protect your content after posting it on your membership website or if you ever wanted to move your content protection from one level to another then Wishlist AutoProtect may be the right solution for you.
Let's take an example: You want to publish a bonus on your website but you only want it to be publish for two weeks and then move it to a protected level.
If you are not Wishlist AutoProtect your only option is to do it manually. You will need to  remember the date and time you want to protection start and change it by yourself manually.
If you are doing just for one post then the manual process is vry easy to preform but with multiple posts or multiple membership websites the it's can easily turned into a impossible mission.
The Wishlist AutoProtect Solution
Wishlist AutoProtect is a very "lite" plugin, it's only have one setting box that been added to each post or page on your website.
In the setting box, you will be able to change set a specific date and a new protection level to your content.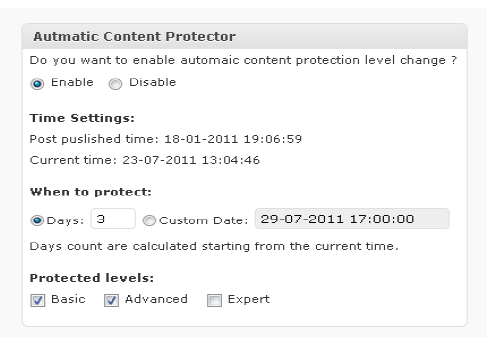 When the time will come Wishlist AutoProtect will automatically do the change for you.
Wishlist AutoProtect Features:
Ability to change the protection level of a post or a page automatically
Move your content between different protection levels easily.
Supports multiple level change at once.
Simple and easy to use setting page.
Works with any timezone you defined on your blog.
Ability to create "disappearing" content with just a couple of clicks.
Secure Your Content Now With Wishlist AutoProtect
Just because you have released content, does not mean it needs to be out in the open forever.
Putting up content for free for a limited amount of time will drive more users to your site and will leave them eagerly waiting for more of your content.
This will also give them that relief that they were able to land on your site at the right time if they're able to get something worthwhile from their visit.
You just need to be more intuitive with this product and you will realize how beneficial it is to have it by your side.
Is WishlistAutoProtect Worth his price ?
That can a very difficult question to answer because the lite version of the Wishlist AutoProtect is FREE to download.
You can try it on your website with any limitation and see for your self if it's worth to upgrade to pro version.
Download your FREE copy at: http://WishlistAutoProtect.com