The $5 Plugin Deal

July 25, 2013

0 Comments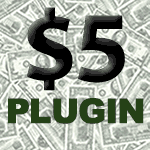 Have you ever needed a simple feature for your membership site and you thought to yourself:
"If there was just a simple plugin for that…"
?
Well, we need simple features that don't exist all the time, and the more membership sites we build and manage, the more this thought crosses through our mind.
So we started developing these "tiny" plugins for ourselves, and it occurred to us that if we need these kind of plugins, other membership sites owners probably need them too.
We decided to publish these new plugins here in this website and allow you 72 hours to purchase the plugins you need for a small price of $5 only.
$5 Plugin FAQs
We have collected some of the questions you may have about the "$5 Plugin" deal:
How does the $5 plugin work?
Every time a new plugin we be "born", it will be offered for purchase at a funny special price of $5. However, the special price will only be available for 72 hours.
I only have 72 hours to get the deal?
Yes. That is exactly the point. Once the 72 hours are gone, you will need to pay full price for the plugin to get it.
Why are you offering such a significant discount?
The whole purpose of the $5 Plugins is to give as many people the opportunity to further develop and improve their membership sites, so we waned the plugins to be affordable for everyone.
So why do you have a time-limit?
For two reasons: the first reason is we don't believe in over-thinking, and the second reason is to make things more interesting :). All the plugins that will be sold at $5 Plugins are real products, so you can rest assure you get the value for your money.
Offer a Plugin
If you also have any ideas for "tiny" plugins that are simple yet can make your membership site really powerful, please leave us a comment bellow with your idea and we just might develop it next.
If your plugin will be chosen, you will get a free copy.
 When Will the First $5 Plugin Be Released?
The first plugin will be released in the next few days.
To stay updated all you need to do is register to our FREE membership in the form to your right and we will email you every time a new plugin is released.
By registering to our free membership you are not obligated in any way to purchase any of our plugins.
So stay tuned as our first plugin will soon be released…
Update me when a new plugin is released!