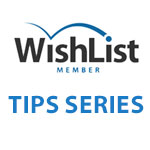 Many membership sites owners want to know how they can accomplish different protection settings, such as: hide specific content from members, how to display content for limited amount of time, how to change the protection settings of their content and more.
This tip is a must-have for practically every membership site owner as in this tip you will find many ways you can use to display content to your members to increase their anticipation and urgency and maximize your revenues.
What You Get From this Tip?
In this tip we provide you with 5 different ways to display / hide content to / from members in different ways, including the advantages and disadvantages of using each method.
Register for Free to Get Access
Register to our FREE membership on the form to your right and get immediate access to this tip and to all the upcoming tips about Wishlist Member.

Read more…