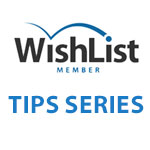 Many of our clients email us asking if a certain plugin they want to use can be integrates with Wishlist Member plugin.
In some cases, it is possible to custom develop a solution that will integrate a plugin or service with Wishlist Member.
What You Get From this Tip
In this tip we gathered many popular plugins and services that can be integrated with Wishlist Member, including a referral to how it can be done.
We have also included other popular services that currently does not integrate with Wishlist.
We have included plugins and services from the following categories: eCommerce platforms, forum plugins, form plugins, affiliate plugins and course plugins.
Register for Free to Get Access

Register to our FREE membership on the form to your right and get immediate access to this tip and to all the upcoming tips about Wishlist Member.