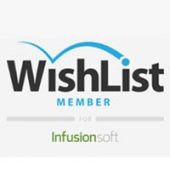 Wishlist Member is one of the most powerful membership platforms with many external plugins and extensions that can even enhance the core functionality of Wishlist Member itself.
No membership platform is complete without a powerful integration with popular payment gateways, and although Wishlist Member integrates with multiple highly popular payment gateways, using an external service that was developed by Wishlist Products themselves can integrate Wishlist Member with InfusionSoft in the most complete and powerful way.
Using Wishlist Member for InfusionSoft service you can integrate Wishlist Member with a two-way communication with InfusionSoft.
As both platforms are very sophisticated with many features it would be inevitable to create such an integration.
Note that you can register to a FREE InfusionSoft demo account to check if this is the payment gateway you need.
Also, if you are thinking of purchasing InfusionSoft, make sure you check our special gift to you (a free license to one of our top Wishlist Member dedicated plugins. You can get all the information in this post: Thinking of Integrating Wishlist Member with InfusionSoft? Don't Miss Our Gift!