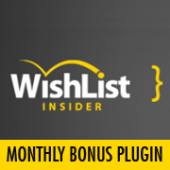 Wishlist Insider is Wishlist Member's online community. Being part of the Insider community allows you to enjoy:
Free Monthly Bonuses – As an Insider you will get a new bonus plugin every month! All the plugins are developed by the Wishlist team and are Wishlist Member dedicated.
These plugins are really awesome and their main purpose is to help you empower your membership site and increase the engagement of your members to your site.
Some of the plugins are also available for purchase if you are a Wishlist user. You can find the complete list of available plugins for Wishlist Member in this repository.