Wishlist Insider 3rd Anniversary and You Get 2 Bonuses for Free!

May 11, 2013

0 Comments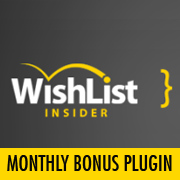 Every month the Wishlist team is releasing a new bonus plugin for their online community – Wishlist Insider.
However, this May Wishlist Insider is celebrating its 3rd anniversary, so Wishlist has announced that they will be giving out 2 bonuses instead of one.
This plugin is not available for purchase anymore.
If you are interested in similar features, you can contact one of our developers for developing this kind of a solution for your exact specifications and requirements email us through the contact form on contact us page
Also, if you are looking to extend your WishList membership site with awesome features that will increase your sales and revenues make sure you check HappyPlugins.com
All Insiders who are members during the month of May, 2013 get both of the following completely FREE:
1. Choose 1 plugin from Wishlist Insider's past bonus plugins
Instead of paying for the plugin you need, you will get it for FREE!
This is the complete list of Wishlist's past plugins that you can choose from:
2. Get Stu McLaren's in depth membership course
Stu McLaren, the co-founder of Wishlist Member, is teaching a special membership course named "Core Essentials". This course will be available only to members who are part of the Insider's community during May 2013.
The first webinar will be 30 minutes and is scheduled for Tuesday May 14th, 2013 at 3 pm ET. Two additional webinars will then be conducted on Saturday May 18th, 2013 and Sunday May 19th, 2013.
Both of these webinars will begins at 12:00 pm ET and are 3 hours in length which includes a two hour lesson followed by a one hour Questions and Answer period.
Webinar Dates/Times
Tuesday, May 14th, 2013 – 3:00 pm ET / 2:00 pm CT / 12:00 pm PT
Saturday, May 18th, 2013 – 12:00 pm ET / 11:00 am CT / 9:00 am PT
Sunday, May 19th, 2013 – 12:00 pm ET / 11:00 am CT / 9:00 am PT
How can you get more info on Wishlist Insider?
This plugin is not available for purchase anymore.
If you are interested in similar features, you can contact one of our developers for developing this kind of a solution for your exact specifications and requirements email us through the contact form on contact us page
Also, if you are looking to extend your WishList membership site with awesome features that will increase your sales and revenues make sure you check HappyPlugins.com