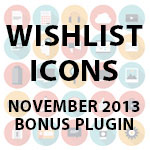 The Wishlist team has just released another bonus plugin for their online community, Wishlist Insider, and this plugin in really awesome.
With Wishlist Icons you will be able to define different icons for different actions members complete inside your membership site.
For example: You can define a "first comment icon" for members who make their first comment on the site.
Another example is set different icons for different membership levels, so when a members upgrades his membership, a new icon will be added to his icon list.
You can either use existing icons, upload new icons from your computer or from your media library.
These are the top 5 reasons why you must use Wishlist Icons on your membership site: