Wishlist Member Version 2.9 Review (Latest Version)

October 22, 2014

26 Comments
Finally the latest version of Wishlist Member has now been released – version 2.9 and if you purchase it through as we also give you 2 special gifts!
We have already reviewed the version and went over all the updates and editions and we can only tell you that the Wishlist plugin just got even more awesome!
If you are looking for a membership plugin this is with out a doubt THE plugin you should get!
Also, don't forget to check out our special gifts at the end of the review for those of you who purchase through one of our links in this post.
Without further adu… here is our complete review and overview of Wishlist Member version 2.9:
Quick Navigation Links
You can easily navigate through the review using the quick navigation links below:
Features Improvements & Redesign Sections
The Members Tab
1. "Manage Members"
More user-friendly interface of the members' table with the membership details about each member below the member's name.
See in one glance the members' status, including the membership levels they are registered to, whether they are active or not, whether they have an expiration date etc.
You can also see members that are scheduled to be moved or added to other levels or if their membership is about to expire on a certain date (add screenshots).
This is excellent especially if you have a lot of members and data is crucial to be organized.
The display of the members' table is different and more visual, the table is not too loaded with information and the details are easier and faster to understand, as you can see from the below screenshots:
Old Version (2.8):

New Version (2.9):

– – – – –
The Levels Tab
1. Admin approval after registration
When you add a new membership level or edit an existing one, go to the Advanced Settings.
In the old version there is no distinction between free / paid membership levels
In the new version you can specify admin approval for free / paid / both
Old Version: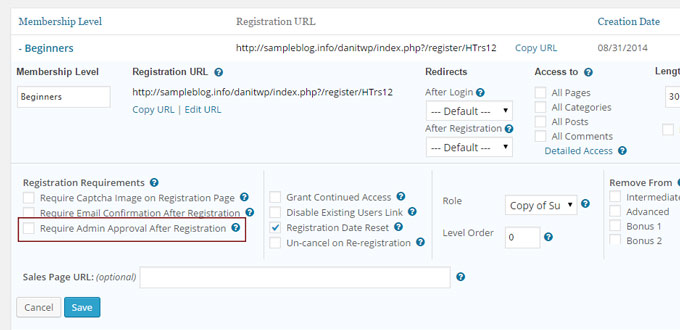 New Version: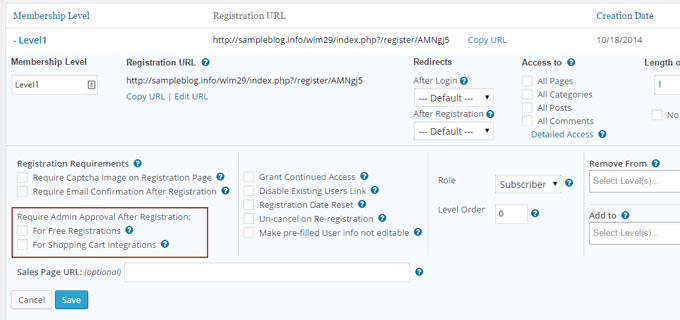 2. Registration form pre-filled details
When a user completes the payment in the shopping cart and comes back to the site he is redirected to the registration form.
The fields: First Name, Last Name, Email are pre-filled by the information taken from the shopping cart.
Old Version – The user can either leave these details or change them according to his preferences
New Version – The admin can decide to disable the option for a user to change these details as you can see in the below screenshot: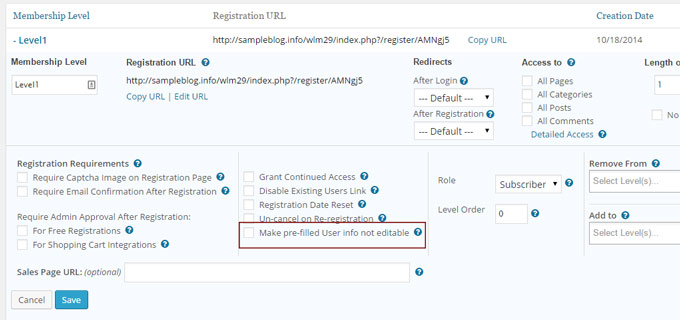 Important Note:
If you are using Wishlist Auto Registration to automatically register members to your site then this feature is not relevant to you, since when the user comes back from the shopping cart he will already be registered to your site automatically and redirected to the Thank You page.
3. Improved Upgrading Options
Improved upgrading options: add to / remove from membership levels (multi-selection possible) – till version 2.8 you could only remove from levels.
Old Version – You can remove from membership level/s when upgrading to a new level
New Version – Wishlist added the option to also add to membership level/s when upgrading. This option allows you to sell membership levels as bundles in a way.
Screenshot: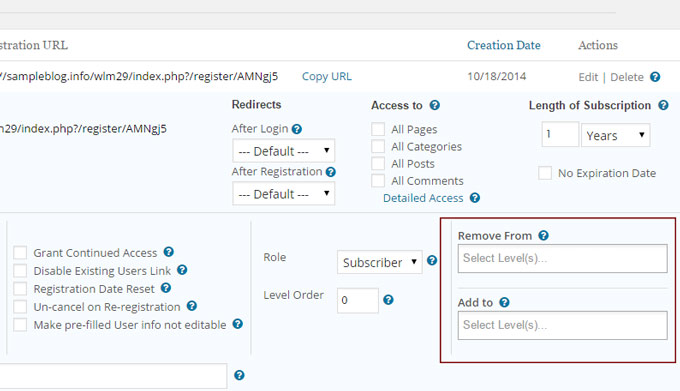 Note about creating bundles:
If you are looking to create more complex bundles with several different combinations, for example: sell each level separately plus sell it as part of a bundle, you can use Wishlist Bundles plugin and empower your membership site.
– – – – –
The Content Tab
The content tab allows you to get a more visual look at your content's protection settings and make changes from one place more easily and quickly.
The new version is even more user-friendly and contains more information and options as you can see from the comparison screenshots below:
Old Version: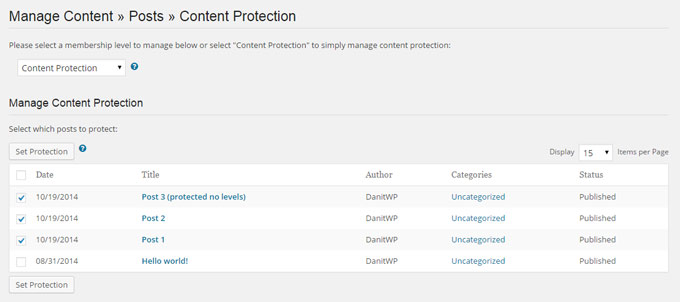 New Version:
The new content protection is completely redesigned, you can see all the content protected in one glance by type (posts/ pages/ categories etc.), you can decide what you want to protect and you can edit the protection status easily, add or remove levels, edit the pay-per-post etc.
Custom post types will be added also if you are using any.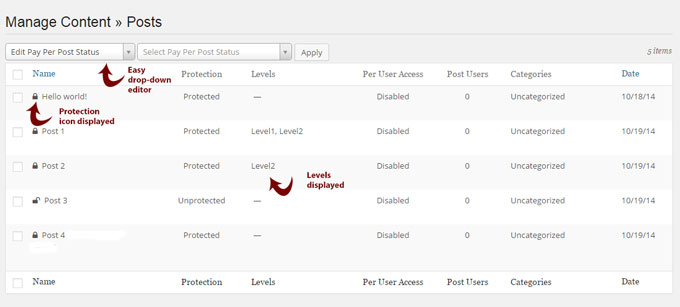 – – – – –
The Private Tags
New Private Tags interface, more user friendly way of adding private tags to content.
Private tags allow you to display content only to your chosen membership levels.
Old Version: you needed to copy-paste the private tags manually in the post, if you wanted to do a private tag for more than one membership level, you needed to create a special private tag for every membership level
New Version: Choose all the relevant membership level/s for the content inside the private tag, add the content, see a preview and the shortcode will be created automatically for you. Another thing possible is reverse private tags which didn't exist in V2.8. The reverse private tags are for members who are in different membership levels than specified in the tag.
To get into the Private Tags interface enter the post / page > click on the WLM icon and choose private tags as seen in this screenshot: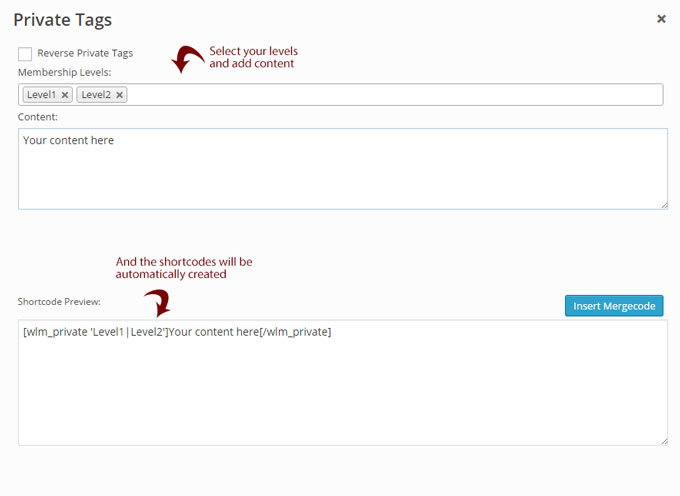 New & Improved Integrations:
New Autoresponders:
New Shopping Carts Integrations:
In addition to the large amount of shopping carts that already have integration with Wishlist, version 2.9 contains even more shopping carts, including:
PayPal Pro
JVZoo
SamCart
Recurly
ClickBank (Improved integration – now includes PitchPlus Upsell)
This means that Wishlist Member now has 17 different shopping carts integrations available!
Wishlist Member Version 2.9 Webinar Replay
Click on the screenshot below to watch the full webinar replay of the Wishlist team about the new version: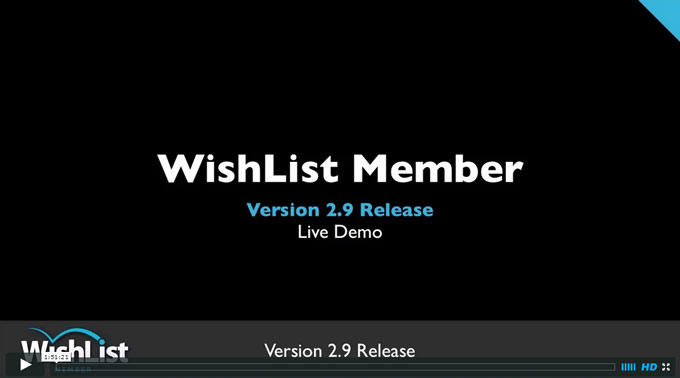 How Can I Get Wishlist Member V2.9?
These are the options to getting the latest and most enhanced version of Wishlist Member:
Non customers:
Buy the Wishlist Member v2.9 starting today you already get v2.9
Existing customers – Upgrade link:
Your purchase of wlm came with full support and updates for 1 year (login to the customer center) and check for updates available under My Software there you can also purchase extensions for wlm
You can upgrade toWishlist Member v2.9 in this link
Wishlist Member vs. Popular Membership Plugins
Check out our detailed comparisons of Wishlist Member and other popular membership plugins:
To Wrap It Up…
There is no question about it that Wishlist Member has become one of the most enhanced plugins for creating and managing membership sites.
With so many features and options in the plugin itself and with more than 60 extensions available for purchase individually, Wishlist Member allows you to create basically  any type of membership site you want.
New to Wishlist Member?
You may want to also read our complete review and overview of Wishlist Member.
Also, if you are looking for hiring someone to build your membership site for you/ troubleshooting / consulting with a Wishlist Member certified developer etc. click here to get more information about our services.
Special Gifts for You
Purchase Wishlist Member through this link and get 1 or 2 awesome gifts from us:
Purchase Wishlist Member Single License >> Get Wishlist Quick Access
Purchase Wishlist Member Unlimited Licenses >> Get Wishlist Quick Access + Wishlist Protection Display
Click on this link to get Wishlist Member 2.9 and email us to:
info [at] wishlistmemberplugins.net and the special gifts are on their way to you…
You can get Wishlist Member v2.9 in this link OR upgrade if you already have an older version in this link
Check Our Wishlist Member Tips Series
These are only some of the tips you will find (must be logged-in):
Not a Member Yet?
Register for free using the form to your right.