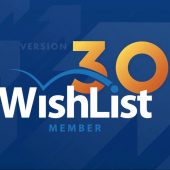 Wishlist Member is a very veteran membership platform with thousands of users worldwide.
It offers a large verity of features and integrations that will allow you to create practically any membership site you want.
One very popular complain we have heard over the years about Wishlist Member is actually not related to its features, but to its look.
Many users have found it too difficult to understand, as it includes so much features, and said that it has a very slow learning curve.
That is why we were very happy to find out that the Wishlist Member team is working on a new version for the platform, and were even more excited when we got the beta version and discovered that they have done major visual improvements.
As you will see in the review below, there have been really major changes in the look of the settings' screens, which makes the platform a lot easier to understand and learn.
We hope you will benefit from our review, and if you find it useful we will appreciate if you purchase the software through our affiliate link.