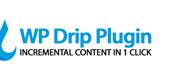 As the owner of many membership websites, one of the biggest problems I used to encounter with is retaining my existing members and making them want to renew their membership subscription month after month.
I started noticing that after about only one or two months of subscription, many of my subscribers stopped their renewal and left. This got me into one conclusion, that I was giving them all the professional material they needed on the spot, and I gave them no reason to continue their membership and get monthly updates.
WP Drip plugin helped me prevent this problem, by letting me drip the content slowly to my subscribers, I gave them a reason to continue the subscription, otherwise they wouldn't get my upcoming posts.
*** Important Update (07/05/2015)
There are currently 3 dripping plugins for Wishlist Member.
Please read our tip: Tip #50: How to Drip Content using Wishlist Member & Which Option to Choose
*** We also recommend checking Wishlist Drip Dynamic Shortcodes plugin which is much a much robust plugin for content dripping.