WP Drip

November 18, 2011

6 Comments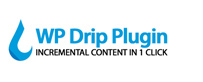 As the owner of many membership websites, one of the biggest problems I used to encounter with is retaining my existing members and making them want to renew their membership subscription month after month.
I started noticing that after about only one or two months of subscription, many of my subscribers stopped their renewal and left. This got me into one conclusion, that I was giving them all the professional material they needed on the spot, and I gave them no reason to continue their membership and get monthly updates.
WP Drip plugin helped me prevent this problem, by letting me drip the content slowly to my subscribers, I gave them a reason to continue the subscription, otherwise they wouldn't get my upcoming posts.
*** Important Update (07/05/2015)
There are currently 3 dripping plugins for Wishlist Member.
Please read our tip: Tip #50: How to Drip Content using Wishlist Member & Which Option to Choose
*** We also recommend checking Wishlist Drip Dynamic Shortcodes plugin which is much a much robust plugin for content dripping.
Summing Overview
Name: WP Drip
Creators: Robert Plank and Lance Tamashiro
Focus: WordPress drip feeding plugin
Price: Single site – $47, unlimited sites – $97
Official Website: http://wpdrip.com
Why I Think WP Drip is a Must Have Plugin?
WP Drip is super easy to work with. It works 100% all the time, and from my experience, this fact is not common in all WordPress plugins I've tried and tested on my membership websites.
WP Drip can tremendously increase your membership sites revenues. I was able to increase my websites revenues by 40%! It can be a great way to check whether or not the content you write adds value to your subscribers or not. If people are willing to pay you month after month, you must be doing something right J
There's another plugin that is aimed to do just the same; it's called Wishlist Content Scheduler. However, only people who were members of the Wishlist Insider community on the specific month the plugin was published had the chance to get it.
WP Drip can help you rearrange your content and decide to show posts later or right away.
After you activate the plugin, the first step is to determine how many posts you want a new member to see once he registers. For example, you can decide to give him your website 2 days' worth of content.
Go to WP Drip Homepage
WP Drip Screenshots
Why I Love WP Drip?
One of the coolest features I love about WP Drip is determining how many days' worth of content to show to a new member that joins the site, for example: you can decide that a new user will see 3 days' worth of content when he signs in.
I also love the fact that WP Drip is very easy to set up. It takes just a few seconds to install it in the membership website.
I personally think it is worth its price. For only $99 you can install it in an unlimited amount of membership websites and get back the investment in no time.
Go to WP Drip Homepage