WishList Member Plugin V2.8 Complete Review and Overview

January 4, 2012

1 Comment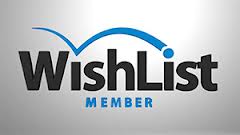 *** Important Update:
Wishlist  has released their latest version 2.9 and we wrote a complete review and overview of the version.
Get the review of version 2.9 in this link
Wishlist Member is a WordPress plugin for creating membership sites.
By installing the plugin you turn your website into a complete functioning membership site very quickly and easily.
We have been working with Wishlist Member platform since its early days and it has tremendously improved over the years.
As for now, since the Wishlist team has released their latest version 2.8, it has become the most advanced and updated platform for building membership sites so far!
The Wishlist team is doing an amazing job in pushing their plugin forward and constantly upgrading and adjusting it to their clients' needs.
After going through several plugins and platforms, we are confidant there is absolutely no other platform that will give you so much and help you build a professional and successful membership site.
We hope our thorough review and overview of Wishlist will help you make the best decision for your business.
Quick Navigation Links
You can easily navigate through the review using the quick navigation links below:
Why Go With Wishlist Member?
Besides the excellent features that Wishlist Member plugin has, there are some other reasons that make Wishlist the best plugin for building membership sites:
Veteran & Experienced Company
Wishlist Member was established by Tracy Childers and Stu McLaren about 5 years ago and it was installed in over 45,500 membership sites so far.
The experience that the Wishlist team had acquired over the years made Wishlist Member one of the most powerful plugins for creating and managing membership sites today.
Full Support
From our own experience, Wishlist Member has a great support team that answers very quickly and tries to solve every problem.
This is a very important factor to take into consideration when choosing your membership site software, since if you need any help in the future, especially in the beginning, you would want a support team that you can rely on and that can respond quickly.
Complete Training
Wishlist Member has built a wonderful community called Wishlist Insider which gives you access to all their tutorial lessons, videos, webinars, audio lessons, forum discussions, bonus materials, mini workshops and more.
Also, as an insider, every single month you get a FREE bonus plugin developed by the Wishlist team to help you empower your membership site and make it even better.
The bonus plugins are literally gems, some of them are available for purchase later on by all Wishlist users, so even if you don't want to be an Insider (though you really should…), you will still be able to get your hands on many of these plugins.
Being part of the Wishlist Insider community costs only $20 a month and it's worth every dollar. You can find Motti Ben David, the owner of this website, there, he is a senior member who registered to the Insider when it was only established.
You really should read our full review on Wishlist Insider here for a more in-depth overview about this thriving community.
You can visit Wishlist Member here
So Why Choose Wishlist Member Among All Other Competitors?
1. The most popular platform for building membership sites
Wishlist Member is one of the most popular plugins for building membership sites, but that is not the only reason for choosing Wishlist over other plugins or platforms.
2. Be part of a thriving community (Wishlist Insider)
What we believe makes the difference is the big community that the Wishlist Member team managed to create in a relatively short period of time.
In this large community that keeps growing on a daily basis you will be able to interact with other Insiders, get new ideas, inspire others and get inspired.
Everyone wants to be part of a community, and this one just rocks!
3. Many software updates and upgrades
Also, the Wishlist guys are putting in all their efforts to satisfy their members, there are constantly upgrading their plugin, releasing new plugins for the Insiders (the bonus plugins, as I already mentioned) and more.
Their latest version 2.8 is just awesome! Many integrations have been added to the plugin and many new features.
4. Bottom line…
No other competitor has managed to build such a strong product with such a strong community, so this is why you should choose Wishlist Member and not any other software or plugin.
What Types Of Membership Websites Can You Build With Wishlist Member?
There are many different membership sites models you can build using Wishlist Member.
In this video Stu Mclaren, the Co-Founder of WishList Member, explains about the 10 most popular membership sites models (You can also use several membership models in one membership site).
If you don't have the time to watch the whole video (though you really should, since Stu explains about the different membership sites' models in a very simple way), to sum it up… you can practically build any type of membership site you want: online course, closed downloadable area, blog style, pay-per-post and more…
Our Personal Opinion on Wishlist Member
We have been building membership sites for a few years now and in the beginning we used a custom HTML websites which were very complicated to manage and expend.
Along the way we have used aMember and other similar plugins for WordPress. We practically tried 5 solutions until we started using Wishlist Member and this is definitely the plugin we are sticking to.
We have been following other membership sites platforms and no one has grown so much like Wishlist has.
For us, it has the 3 most important factors we need:
1. Constant updates and upgrades
Check out Wishlist Member here
2. Many extensions and plugins
See the complete repository for Wishlist Member here
2. Strong online community
The Wishlist Insider community 
Wishlist Member Licence Options
Wishlist Member has two licence options:
Single Website – $97
Unlimited Websites – $297
Wishlist Member Latest Version (2.8) Features
Membership Levels
You can easily set up as many membership levels as you need and define different settings for each level, for example:
Access Settings – The amount of time a member has access to each level
Redirection Pages – Which page each level is redirected to after the registration process and log-in
Content Settings – The type of content each level has access to: pages, posts, categories and comments
Sequential Upgrade – Whether or not members will automatically be removed from a certain level when they upgrade to a new level, for example: when a free level member upgrades to the paid level he will automatically be removed from the free level.
And More…

Custom Error Pages
You can specify the error pages your visitors will see when they try to access protected content in two ways: From the Wishlist Member plugin general settings tab or from each page individually.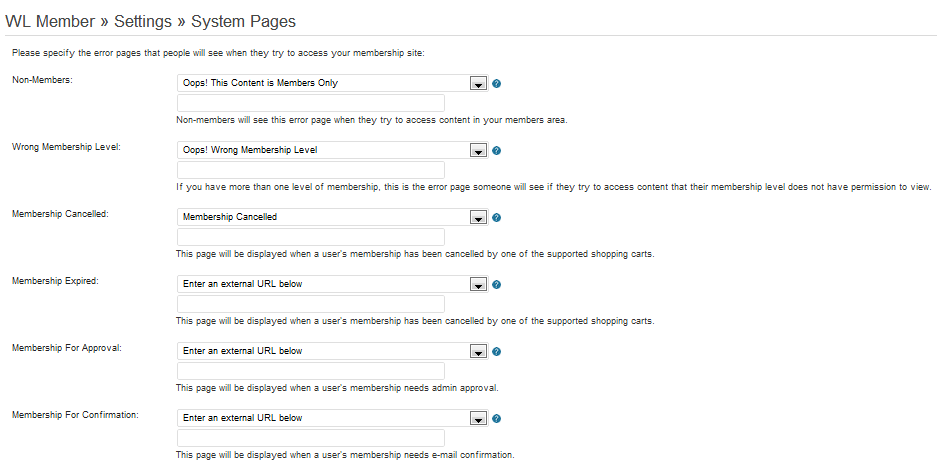 Manage Members
You can easily manage your members from one place, for example:
Add a new member manually
Add or move members to another level
Remove members from a specific level
Approve your members' registration to a specific level
Confirm your members' subscription to a level etc.
You can manage your members very easily, all you need to do is choose the member you want and click on the desired action.

Manage Content
Easily manage your content from one place:
Posts
Pages
Comments
Categories
Files
And Folders
All you need to do is choose the content you want to manage, the content protection or the membership level you want and check and the content you want to protect.
That is a great and easy way to manage your membership site's content.
For example: instead of editing each post or page, you can go to the Manage Content option and save valuable time.

Sequential Upgrade
The Sequential Upgrade is a very cool feature that lets you set an automatic upgrade to a new level after a specific amount of days.
You can either add a new level to the existing one or move the member from the previous level to the new one.
For Example:
Let's say you want to build a membership site to teach your members a course with 12 lessons, and you want each lesson to be revealed each week.
You can set your membership levels to be: Lessons 1-12 and define in the Sequential Upgrade that each member will be upgraded to the next lesson after 7 days and everything will be done automatically.

Shopping Cart Integration
You can select your desired payment gateways from the many options below (we wrote the most popular ones):
1ShoppingCart
Clickbank
2Checkout
Authorize.net
Infusionsoft
PayPal
Cydec
eWAY
Recurly
Spreedly
Stripe
Improved Clickbank (Supports PitchPlus Upsell)
Improved Infusionsoft (Add and Remove Tags on Registration, Removal and Cancellation)
Support Paypal echeck payments
You can even integrate Wishlist with your own custom shopping cart.
All the instructions on how to do the integration to help you do the integration easily will appear once you choose your payment method.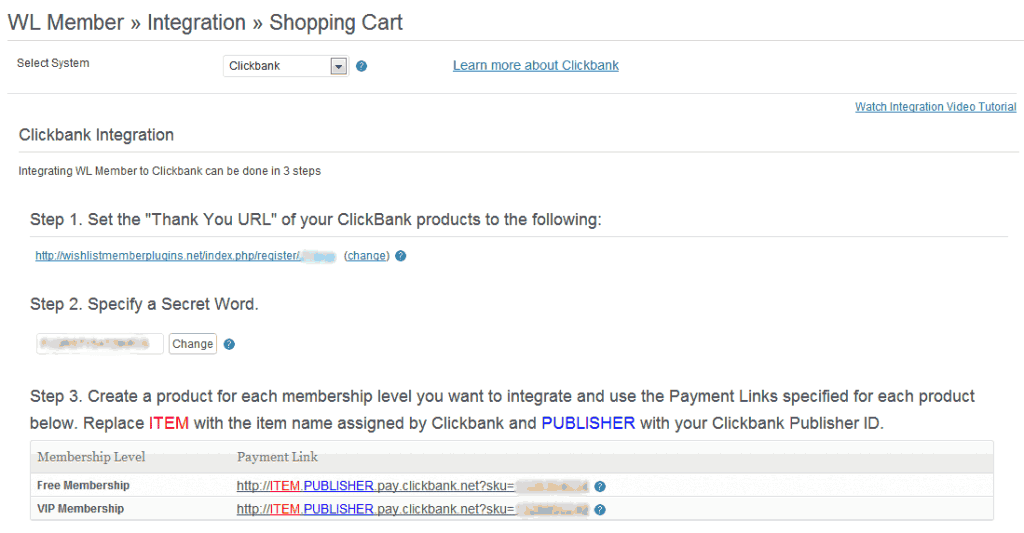 Autoresponder Integration
You can automatically integrate Wishlist Member with many Autoresponders such as:
GetResponse
Aweber
MailChimp
iContact
Infusionsoft
arpReach
Improved MailChimp
Improved Infusionsoft
Call Loop
Mad Mimi
ActiveCampaign

And even

your own custom Autoresponder

Webinar Integration
GoToWebinar
Easy Webinar
Evergreen Business Systems
Gotowebinar API
Pay Per Post
Capability to add/remove pay per post to/from multiple users in the members tab
Added Option to prevent the deletion of posts/pages assigned as pay per post
Added hooks when a pay per post is added to a user
Email Broadcast
Allow sending email broadcast to Saved Search
You can use the "Read More" tag to reveal the protected content's title and the first few sentences of the content in order to attract your visitors to sign up for your membership or to upgrade for the right level in order to see the content.
When the visitor will click on the "Read More" option he will be directed to an error page, there you will be able to sell him your membership. The "teaser" option is awesome and if you use it wisely you can tremendously increase your sales.
Wishlist Member Setup Wizard
The Setup Wizard will allow you to create your Wishlist membership site's basics quickly and easily. You will find the Setup Wizard in the Settings tab.
There are 4 stages you will go through with the Setup Wizard:
Creating your membership levels – you can add as many membership levels as you need.
Assigning your error pages – you can choose to create these pages manually or let Wishlist plugin do it for you automatically.
Defining your protection settings – Whether or not to protect all your posts and pages by default and whether or not to allow non-members to see a "sneak peek" of the protected content (title and the first lines of the post).
Creating your members redirect pages – there are 2 redirection pages: after registration page and after login page. You can choose to create them manually or let Wishlist plugin create them for you.