Affiliate Royale Review

January 30, 2012

12 Comments

Till now, if you wanted to add an affiliate program to your membership website, you should have used external or 3rd party solutions. No more!
Affiliate Royale is a complete affiliate program plugin you install inside your WordPress site and easily manage your affiliates through its easy to use dashboard.
All you need to do is to install Affiliate Royale, add promotion and you are ready to go.
*** Important Update:
We have an updated post about Affiliate Royale and a complete comparison of Affiliate Royale vs. AffiliateWP plugin >> AffiliateWP vs. Affiliate Royale – Full Comparison
Affiliate Royale Features
Very Easy and Simple to Install – Affiliate Royale has a very simple installation system. All you need to do is to install the plugin and Affiliate Royale is ready.
Unique Stats and Reports for each Affiliate – Affiliate Royale has a very strong affiliate management dashboard that helps you manage your affiliates easily. With its simple dashboard, you can easily monitor your affiliates' stats, view their payment history, edit their account information, and download their links and banners, create sign-up and log-in pages for them to use on their management dashboard and more.
Flexible Payment Methods – Affiliate Royale is very flexible when it comes to working with different Shopping Carts and Gateways. It can be used to track payments from Wishlist Member, PayPal, NetARB and more.
Can Work with Wishlist Member Plugins – Affiliate Royale is Built and optimized to work with Wishlist Member plugins, which is a great feature that doesn't exist in other platforms I know.
Earn More Money from Your Site – By using Affiliate Royale instead of a 3rd party service, you will be able to earn more money, because you just won't need to pay part of your revenues to any external service what so ever. The price you pay for Affiliate Royale is a lot cheaper than any other services that may even take a debit from your monthly transactions.
Go to Affiliate Royale Homepage
Affiliate Royale Front-end Screenshots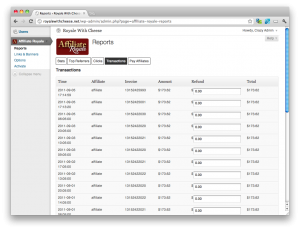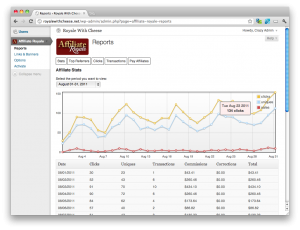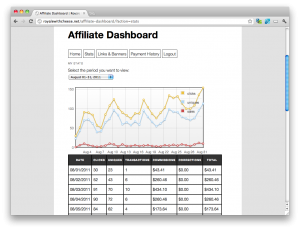 Affiliate Royale Demo
The best thing you can do to get to know Affiliate Royale and decide whether it's for you or not is to "feel" it for yourself.
The Affiliate Royale team has setup a demo version you can enter.
You have a demo for the admin panel and also for the affiliate panel.
Go ahead and check it out for yourself in the button below:
Try Affiliate Royale Demo
Affiliate Royal Packages
If you only need one WordPress affiliate program, you can get the single site license for $85.
If you need Affiliate Royale across your entire network of sites, you can get the unlimited sites license for $165.
Go to Affiliate Royale Homepage
Wondering Which Affiliate Program To Get?
We created a complete guide on the different types of affiliate programs that integrates with Wishlist Member plugin.
The topics covered in the guide are:
How do affiliates choose products to promote:
The 3 most important factors that would influence affiliates when choosing whether or not to promote your products/ services.
How to choose the right affiliate program for you:
What are 2 main types of affiliate program solutions available
The pros and cons of every type of solution
The most important factors you need to check before choosing your affiliate program
An overview of the most popular affiliate programs that integrate with Wishlist Member plugin
How to make affiliates promote your membership site:
The tactics you should use to attract new affiliates and engage existing ones.
To get more details on the guide click on this link >> "Choosing an Affiliate Program for Your Wishlist Member Membership Site"
Recommended: