BackupBuddy Review

April 7, 2012

10 Comments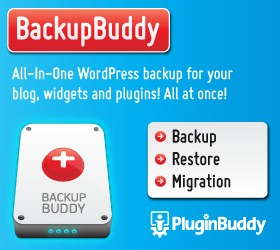 Being in the internet marketing business for such a long time made me learn a very important lesson… to always learn from my own mistakes.
That is why when I had my first money making site being hacked and caused me to lose a very important income stream; I knew I have to start backing up my sites.
I was just too naive to think there are so many websites on the net so the statistics are in my favors and my sites are safe.
So Why BackupBuddy of All Other Options?
Well, after doing my research I decided to go with Backup Buddy because I found it to do the backing up process very easily, even for those who have zero technical skills.
With BackupBuddy you will be able to migrate your entire site to a new site without installing WordPress on your new site. That is an awesome feature I use all the time. You can literally set up a whole new website in minutes using BackupBuddy (and the importbuddy.php file as you will read below).
Also, with BackupBuddy you will be able to send your backups anywhere you want: your email, Dropbox, Rackspace, Amazon S3 or your FTP. We backup WishlistMemberPlugins.net on a daily basis and we send all our backup files to our Amazon S3 account and it's awesome.
Backup Buddy is definitely an All in One solution or backups, restoration and migration and it really gives you a peace of mind all your hard work won't go down the drain.
Get BackupBuddy 3.0 with 69 New Enchantments
BackupBuddy Features
Backup, Restore and Migrate:
Data Backup – lets you back up only your content
Full Backup – lets you do a full back up of your site, data and files
ImportBuddy.php – a very powerful version of the most important and required Backup Buddy commends that allows you to work with any backup file on any other site without having WordPress installed. You simply need to fill-in your host's database to let the importbuddy access the data and take care of the restore or migration process and have an entire site work in just minutes.
Scheduled Backups:
Here you can schedule when a new backup will be done. You can backup only your database or you can run a full backup (database + files).
You can also set the backup to be schedules every month, twice a month, week, day or hour, depending on your needs and set a specific date and hour for your next backup to run.
How to Migrate to a New Site with BackupBuddy in Just Minutes
The process of backing up you site is simple (you can also see screenshots below):
Go to the site you want to migrate, click "Backup & Restore" and then "Full Backup".
Once the backup process is done, click to download the backup ZIP archive.
Go to "Backup & Restore" and download the ImportBuddy.php
Upload the backup zip file and the ImportBuddy.php file to your new site through the FTP
Go to the new site's URL and click on the "importbuddy.php" link
Follow the steps and insert your database details and finish the migration process
That's it… you just migrated your existing website to a new one.
BackupBuddy Screenshots
BackupBuddy Prices
The personal license costs $75 for 2 sites. If you are a single website owner this license is perfect for you.
The business license costs $100 for 10 sites.
The developer license costs $150 for unlimited number of sites. If you are a WordPress designer or developer you might consider buying the unlimited license.
Once you will purchase Backup Buddy you'll realize it is not as expensive as it sounds, when you take into consideration all its features, so if you are planning on building a complete network of sites, I recommend you to get the unlimited number of sites license.
My Final Conclusion on BackupBuddy
Though Backup Buddy is not the only backup plugin exists, in my opinion it is the easiest to work with, and it also makes the backup process a lot quicker, with no need to install anything.
I have been using Backup Buddy for quite some time now and I found it to be very reliable and easy to manage.
Go to BackupBuddy Homepage