WPSubscribers Review

April 3, 2012

0 Comments
Not building an email list right from the beginning is a mistake, and I admit I repeated that mistake too many times in the past. Don't do that mistake also.
WPSubscribers is a very cool plugin that will help you maximize your subscription CTR by placing different types of opt-in forms in many locations in your website.
WPSubscribers Pros and Cons
WPSubscribers is very easy to operate as you do not have to be a PHP Developer just to get it to work. Once you spend more time with the interface, you will see that it's really effortless when it comes to creating subscription forms through popups, the footer, when commenting, within posts and more.
There are many ways WPSubscribers can help you with your List Building goals as it also integrates well with different autoresponders such as GetResponse and AWeber.
I have tried other similar plugins for comparison purposes, and it's clear that WPSubscribers has far more advanced features that are helpful with getting new subscribers. One unique feature would be the option of adding a Facebook connect button so that FB users are automatically subscribed to your mailing list.
Why I Chose WPSubscribers
I truly love that WPSubscribers does not make things difficult when it comes to setting it up. For one thing, I just need to copy and paste some HTML codes to my Autoresponder, and then after clicking the "Detect your form code" button, it's all set.
Another thing I find great with WPSubscribers would be that the process of creating opt-in forms is very fast and flexible. Take for instance the Lightbox popup. On the one hand, I could choose from the 12 templates provided, with 8 different color schemes each, but on the other hand, I have the freedom of setting up my own style if I went with the Custom Opt-in form.
With regards to how much WPSubscribers would cost, there are actually two options that are available – $47 for three domains license and $97 for an unlimited domains license. Since I am using a lot of domains, and I do not want to be limited, I got the unlimited domains license package. It was surely worth it because I have practically earned more than I paid for WPSubscribers since I started using it.
Redirect Your Members after Commenting on Your Site
You can use WPSubscribers to redirect your members to any page you would like in a very simple and easy way.
All you need to do is go to "Other Opt-in Forms" >> "Redirect after Commenting" and follow the below picture: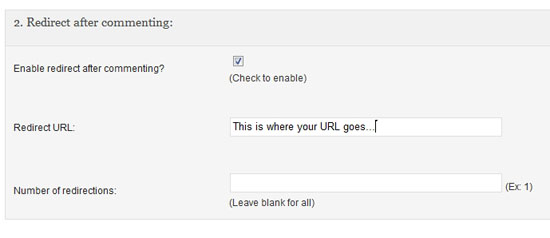 WP Subscribers Screen-Shots
WPSubscribers and Membership Websites
WPSubscribers is the perfect plugin for membership sites owners, as it can help you increase your subscriptions CTR tremendously and help you generate more income from your website.
You can test different types of forms until you find what works for you. Try WPSubscribers and increase your revenues now.
My Last Words on WPSubscribers
WPSubscribers is definitely an essential plugin for all websites owners who want to build a decent email list.
I recommend you to get WPSubscribers even if you have just built your first list. It's never too early to start collecting emails.