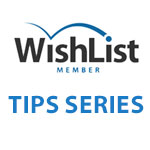 Wishlist Member has a complete integration with ClickBank network, so if you are selling your products on ClickBank , you can easily integrate them.
If you are new to Wishlist Member and have started using Wishlist Member only after version 2.8 was released, you may not know that there is another way to integrate Wishlist Member Clickbank, other than the current Wishlist Member ClickBank integration.
Although this method is for people who are a bit more techies, you may found it more flexible in some scenarios, for example:
If you have multiple ClickBank accounts where you are selling different products, but you want to sell them through one Wishlist Member membership site.
If you are using the current Wishlist Member integration (version 2.8 and up), you cannot sell multiple ClickBank products through one Wishlist Membership site, because you need to insert your merchant account's name in the integration settings.
However, you can easily accomplish this kind of scenario using the "old" Wishlist Member & Clickbank integration settings (that were available in the older Wishlist Member versions – before v 2.8).
What Yo Get in the Tip?
In this tip we go over how to sell multiple ClickBank products through one Wishlist Member membership site.
Get Free Access Now

Login to get all the tips or Register to our FREE membership using the registration form to your right and get immediate access to this tip and to all the upcoming tips about Wishlist Member!