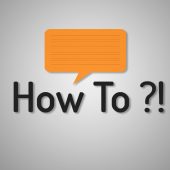 This How to Question comes from Lisa who wants to know if it is possible to allow members of membership site #1 register to membership site #2 automatically without making them register to the second website and fill in a registration form.
Lisa's Question:
"How can I offer members a quick and effortless way to register to another Wishlist Member membership site?
I want to offer my members free registration to a different membership site that belongs to a colleague of mine as part of a joint venture we are having."
Roll Members to Another Membership Site in 1-Click!
Answer:
Using Wishlist 1-Click Registration you can automatically register members from one membership site to another. The plugin needs to be installed in the new website, in Lisa's case her colleague's website.
Go to the Generator tab, select the relevant membership level and thank you page and click generate. Now all that's left is to copy the HTML code and paste it in the text editor of any post or page in the old membership site, the one you want to roll members from and that's it.
Now when a member will click on the link he'll be automatically registered to the new membership site. Just note that for the link to work, members need to be logged in to the old membership site.
For more information go to Wishlist 1-Click Registration