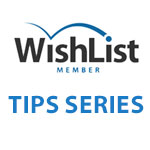 There are only few plugins that integrate with Wishlist Member, among them are bbPress and SimplePress.
Many of our clients are asking for our advise on which plugin has a better integration with Wishlist Member and which is more recommended.
That is exactly why we created this tip, to help our customers and all Wishlist Member users get important information before choosing their forum platform, as switching between platforms with hundreds of active users can be very daunting afterwards.
What You Get From this Tip?
In this tip we go over the pros and cons of using bbPress vs. SimplePress
Register for Free to Get Access
Register to our FREE membership on the form to your right and get immediate access to this tip and to all the upcoming tips about Wishlist Member.