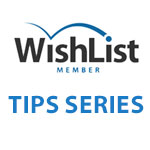 If you have multiple membership levels, you may want to display your content to each level differently.
One of our customers has asked us how if and how it is possible to drip the content to one membership level while allowing members of a different level to always see the content (the same content).
In this tip we go over how you can accomplish that exact scenario.
What You Get From this Tip?
Ways you can drip your content using Wishlist Member
How to drip content to Level X while permanently display the

exact same

content to Level Y
Register for Free to Get Access
Register to our FREE membership on the form to your right and get immediate access to this tip and to all the upcoming tips about Wishlist Member.