Wishlist Selector

August 7, 2013

2 Comments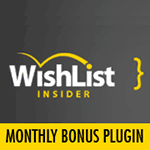 UPDATE:
Wishlist Selector is no longer available for purchase. Send us a quote request for custom development at
http://wishlistmemberdevelopers.com
or check out all the available plugins and extensions for Wishlist Member in the
most thorough repository
we built.
This plugin is not available for purchase anymore.
If you are interested in similar features, you can contact one of our developers for developing this kind of a solution for your exact specifications and requirements email us through the contact form on contact us page
Also, if you are looking to extend your WishList membership site with awesome features that will increase your sales and revenues make sure you check HappyPlugins.com
Wishlist Selector allows you to present various pieces of content your members can choose from. Each choice member make customizes their experience and ensure they are getting the content they want.
The Wishlist team has definitely raised the bar with this plugin!
Wishlist Selector is an amazing plugin that will allow you to create "paths" for your members to follow and present them with content that is relevant for them according to the "paths" they chose.
You will actually be able to guide them through the site and point them to a specific result according to a series of questions you ask them and according to the answers they choose.
The sky is really the limit with this plugin, you can experiment with it and create a different paths according to membership levels, create different types of questions, present different types of results and see what works best for you and your members.
How Does Wishlist Selector Plugin Work?
Once you create the path your members can follow, all you need to do is copy and paste the shortcode inside any post or page you like.
You can see all the shortcodes you created and choose the relevant one from within the toolbar inside any post or page.
You can also get maximum exposure for the paths you create by using the Wishlist Selector widget. All you need to do is enter a message and a link to a specific path you created and insert it in the sidebar.
When the visitors/ members follow the path, they will be able to view their progress, which is important because that way they will know how much more they have to complete the path and are less likely to give up before finishing it through.
What Can You Use Wishlist Selector Plugin For?
Understand what types of content your members would like to get from you
Understand what types of content your visitors are looking for and maybe can't find enough of it inside your membership site and that is why they are not registering to it
To sell other products you own
To promote registration to higher membership levels you have
How Will You Benefit From Wishlist Selector Plugin?
1. Improve experience
Improve your members' experience inside your membership site by giving them content that is relevant to their current membership level.
2. Increase engagement
Increase their engagement by encouraging them to consume your content quicker with the paths you create.
The bigger your membership site will become and the more content you add to it, the more difficult it would be for your members to find what they need.
These "paths" will direct them to the right content for them in a matter of minutes.
3. Encourage new registrations
Encourage new members to register to your membership site by building relevant paths for your non-members and placing the Wishlist Selector shortcode in a non-protected page or post.
With the "path" you will create for them and the longer time they invest in following it through, they will become more and more engaged with your site and the chances for them to become members will increase drastically.
4. Increase sales
Increase sales for complementary products you sell. You can build a new path to point each member to complementary products/ guides/ posts you sell. By giving them only what is suitable for their needs and not trying to just sell them all of your products you will get better results.
How Can You Get Wishlist Selector Plugin?
This plugin is not available for purchase anymore.
If you are interested in similar features, you can contact one of our developers for developing this kind of a solution for your exact specifications and requirements email us through the contact form on contact us page
Also, if you are looking to extend your WishList membership site with awesome features that will increase your sales and revenues make sure you check HappyPlugins.com