Wishlist Member vs. MemberPress – Full Comparison

March 22, 2015

5 Comments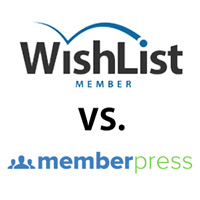 Looking for a full comparison of
Wishlist Member
and
MemberPress
?
Don't know which will do a better job at managing your membership site properly and provide you with the flow and structure you need?
In this post we give you a full comparison of the two plugins, including core important membership settings and features.
We are the biggest 3rd-party company (HappyPlugins.com) that develops plugins for both WishList Member and MemberPress.
You can navigate through the different settings according to your needs to find what you are looking for faster:
Core Membership Features
Both Wishlist Member and MemberPress include the following membership features:
Unlimited membership levels
Members management
Subscription length setup
Members export (limited with MemberPress only to exporting active / inactive users)
Membership features that are available in Wishlist Member only:
Creating bundles – You can create simple bundles using Wishlist's sequential upgrade, or use Wishlist Bundles plugin to create more complex and advanced bundles to maximize your revenues)
Social login – You can create social login using a 3rd-party plugin WLM Social
Protection Settings
The protection settings are the core settings of the entire membership site, both Wishlist and MemberPress allow:
Assigning both free and paid membership levels
Display "teaser" content to non-members and members who are not logged-in
Set total content protection
drip your content – Content dripping is available in Wishlist Member using Wishlist Content Scheduler plugin (paid)
Allow selling individual posts using pay-per-post feature
Securing your RSS feed can be done with Wishlist Member plugin only. Securing your RSS feed will allow your members to consume your content from within their favorite RSS reader, and if they cancel their membership they will no longer have access to that content.
This is not a must-have feature, but it can definitely provide your members with better user-experience. The easier you make it for your members to consume content and the more options you give them to do so, the grater are your chances to have them as members for long period of time.
Pay-per-view is not available with both Wishlist Member and MemberPress plugins.
Payment Models
With both Wishlist and MemberPress you can set trial periods, upsells and one-time offers. With Wishlist Member it depends on the shopping cart you are using.
You can also generate coupons with both, however, with Wishlist Member you will need to use Wishlist Coupon plugin (paid) or use the shopping cart's coupon creation feature if it is allowed with the shopping cart you are using.
For example: ClickBank does not have a built-in option for creating coupons, however, other payment gateways such as InfusionSoft do offer this option, so it depends on the gateways you are using.
Shopping Carts Integration
Wishlist Member plugin offers integration with a lot more shopping carts than MemberPress, including:
PayPal Standard and PayPal Pro, ClickBank, InfusionSoft, Authorize.net, Stripe, Premium Web Cart, JVZoo, 2CheckOut, SamCart, eWay and a lot more.
MemberPress allows integration with PayPal Express and Stripe in the Business plan, plus, in the Developer plan you can also integrate your membership site with Authorize.net
You would want to consider using a membership plugin that offers integrations with many shopping carts, as you might want to switch between carts in the future as your membership site grows, so this is just a note to consider when choosing a membership plugin.
Another important feature you can achieve with Wishlist Member is allowing automatic registration using a 3rd-party plugin developed by our company HappyPlugins called Wishlist Auto Registration.
MemberPress does not have an automatic registration feature.
Autoresopnders Integration
Wishlist Member integrates with the following autoresponder services, including:
GetResponse
Aweber
MailChimp
Constant Contact
iContact
OntraPort
Mad Mimi
Inspire Email Marketer
InfusionSoft
MaroPost
AutoResponse Plus
arpReach
Active Campaign
MemberPress integrates with the following autoresponder services, including:
GetResponse
Aweber
MailChimp
Affiliate Platforms Integration
Wishlist Member offers integration with the most popular affiliate platforms, including: iDevAffiliate, AffiliateWP and Affiliate Royale.
MemberPress is a membership plugin developed by CaseProof, who are also behind Affiliate Royale, so when you purchase any of the MemberPress plugin's plans, you are also issued with a license for Affiliate Royale (Merchant / Developer edition).
Get a full comparison of the most popular affiliate plugins for WordPress in this link
Other Integrations
WooCommerce – Only Wishlist Member (You can enhance your Wishlist Member WooCommerce integration using Wishlist Member WooCommerce Plus plugin)
Get a full comparison of the most popular eCommerce plugins for WordPress in this link
WPCourseware – Both plugins
Forums Integration
Wishlist Member integrates with:
Wishlist integrates with SimplePress, Vanilla forums and bbPress (using the plugin as mentioned above). You can read more about the forums that integrate with Wishlist in our Wishlist Member Tips Series – Tip #18: Which Forums Integrate with Wishlist Member? (you need to be logged-in to the site to read the tip).
MemberPress integrates with:
BuddyPress
bbPress
SimplePress
Mingle Forum
Pricing
Wishlist Member is a paid membership plugin that is offered as a single license ($97) and unlimited licenses ($297), both include support and access to documentation and video tutorials.
You can also get access to premium content, the members' forum, bonus materials, mini courses and more by registering to Wishlist's online community – Wishlist Insider at $20 / month.
MemberPress is also a paid membership plugin that offers 2 planes: Business edition (for 1 site) and Developer edition (for unlimited sites). Both include support & updates and add-ons.
The Bottom Line
Both plugins offer a large variety of features and settings, the bottom line is that the best way to choose a membership plugin is to first make sure the plugin supports all the features and settings you need in order to build your membership site.
Useful Resources