Wishlist Member vs. s2Member – Full Comparison

March 18, 2015

7 Comments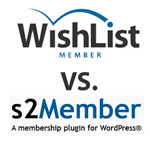 Looking for a full comparison of
Wishlist Member
and
s2Member
? Don't know which will do a better job at managing your membership site properly?
In this post we give you a full comparison of the two plugins, including core important membership settings and features.
You can navigate through the different settings according to your needs to find what you are looking for faster:
Core Membership Features
Both Wishlist Member and s2Member offer important membership features such as:
Creating unlimited number of membership levels, both free and paid (s2Member free version is limited only to 4 paid levels)
Creating bundles (complex and advanced bundles can be done in Wishlist Member using Wishlist Bundles plugin)
Set the subscription length (possible in s2Member paid version)
Set the login redirection page
Allow exporting members (possible in s2Member paid version)
Wishlist Member does have some advantages over s2Member:
Managing your members can be done more easily with Wishlist Member, you can edit members' registration date, add or remove them from membership levels, cancel their membership etc. and all from one easy interface.
Also, if you want to allow social login, you can use an add-on called WLM Social (paid add-on developed by a 3rd party company)
Protection Settings
The protection settings are the core settings of  the membership site and they allow you protect your content in different ways.
Both Wishlist Member and s2Member allow you to:
Set total content protection so only registered and logged-in members will be able to access your content.
Drip your content so it will be released to members each x number of days (possible in Wishlist Member by using Wishlist Content Scheduler plugin).
Display "teaser" content so non-members will see content that is above the "Read More" tag only, and members will be able to see content below the "Read More" tag. Content dripping is available in s2Member only for the paid version.
Secure your RSS feed, so members will be able to read the content in their favorite RSS reader, but when they cancel their membership the RSS feed will stop working.
Set pay-per-post to allow users to purchase specific content separately.
Pay-per-view is one protection setting that is missing in both Wishlist and s2Member.
Payment Models
Many membership sites owners want to allow different payment options for their members in order to increase sales and overall revenues.
Payment options that are available in both Wishlist Member and s2Member (paid version only) are:
Trials periods, upsells/ one-time offers – Available in Wishlist Member depending on the shopping cart you are using
Discount coupons – Available in Wishlist Member using Wishlist Coupon 2.0 plugin
Shopping Carts Integration
Wishlist Member offers more integrations with different shopping carts services than s2Member.
Wishlist Member allows integration with some of the most popular shopping carts: Clickbank, Authorize.net, PayPal Standard and PayPal Pro, InfusionSoft, Stripe, SamCart, 1 Shopping Cart, 2 Checkout, eWay, JVZoo, Premium Web Cart and many more.
s2Member offers Clickbank, PayPal Standard and PayPal pro and Stripe.
Another important feature you can achieve with Wishlist Member is allowing automatic registration using a 3rd-party plugin developed by our company HappyPlugins called Wishlist Auto Registration.
Automatic registration cannot be achieved in s2Member.
Both plugins does not integrate with Braintree payment gateway.
Autoresopnders Integration
Regarding autoresponders services, Wishlist also has a big advantage over s2Member as it integrates with more autoresponders, including: GetResponse, Aweber, MailChimp, Constant Contact, iContact, OntraPort, Mad Mimi and more, while s2Member has integrations with GetResponse, Aweber and MailChimp only.
Affiliate Platforms Integration
When it comes to managing your affiliates, Wishlist Member offers integration with the most popular affiliate platforms, including: iDevAffiliate, AffiliateWP and Affiliate Royale.
S2Member, on the other hand, integrates with Post Affiliate Pro and iDevAffiliate only.
Get a full comparison of the most popular affiliate plugins for WordPress in this link
eCommerce Integration
Wishlist Member integrates with one of the most popular eCommerce plugins – WooCommerce.
Our company, HappyPlugins, has developed an enhanced and advanced plugin for integrating Wishlist Member with WooCommerce called  – Wishlist Member WooCommerce Plus.
s2Member does not have an integration with WooCommerce.
Get a full comparison of the most popular eCommerce plugins for WordPress in this link
Forums Integration
In the forums section, s2Member does have an advantage over Wishlist Member, as it integrates with both BuddyPress and bbPress, which Wishlist does not integrate with.
Wishlist integrates with SimplePress, Vanilla forums and also with bbPress using the Wishlist bbPress Protection plugin.. You can read more about the forums that integrate with Wishlist in our Wishlist Member Tips Series – Tip #18: Which Forums Integrate with Wishlist Member? (you need to be logged-in to the site to read the tip).
Add-Ons / Extensions
Wishlist Member has an extensive amount of add-ons, some were developed by the Wishlist Member team themselves, and some were developed by 3rd-party companies.
You can find the complete list of add-ons / extensions for Wishlist in one big repository.
S2Member does not have any add-ons or extensions.
Pricing
Wishlist Member is a paid membership plugin that is offered as a single license ($97) and unlimited licenses ($297), both include support and access to documentation and video tutorials.
S2Member offers a free version with basic features, plus a paid version (starting from $69) with more enhanced features.
Documentation & Support
Both Wishlist Member and s2Member offer extensive documentation, knowledge base and video tutorials.
Support is provided to all Wishlist users, while with s2Member, the support is included in the paid version only.
The Bottom Line
The bottom line is that the best way to choose a membership plugin is to first make sure the plugin supports all the features and settings you need in order to build your membership site, so if, for example, social login is a must-have feature for you, or if you are going to use 1ShoppingCart then s2Member is not relevant in your case.
Another important aspect is the ability to enhance your membership site, though both plugins offer API support, Wishlist Member already have a decent amount of add-ons available.
Other Comparisons
Useful Resources