Is OptimizePress The Best Theme for A Wishlist Member Membership site?

November 4, 2012

1 Comment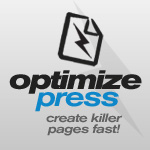 We have been using OptimizePress and Wishlist Member for creating all of our products websites and we can only say that it is one of the best themes that integrates perfectly with Wishlist Member plugin.
Wishlist and OptimizePress allow you to set-up a membership site without the hassle of customizing it too much and it allows you to easily create all the necessary pages for your membership site.
You can create your membership site's pages such as: log-in pages, error pages, members and non-members menus, confirmation pages, affiliate resources, members area etc. and choose the right template for your page you create within every post and page.
New Update 7/30/13
OptimizePress 2.0 will be released tomorrow – July 31, 2013 and it just rocks!
You can view all the details about the new version in the below link:
To Which Type of Membership Sites OptimizePress Suits?
OptimizePress is the most powerful theme for creating landing pages, sales letters and product launches, yet it is less suitable for creating a blog since it is not designed to support posts.
So, if you want to create a mailing list, set up a new sales letter for your products or launch a new product then you will not find a better theme to do the job quickly and easily for you.
Examples for membership sites models you can easily create using OptimizePress and Wishlist Member:
Download Area Model – Create a download area membership site, where your members will need to log-in with username and password in order to be able to download your content.
Course Model – Create a course model with all the protected materials and customize the pages to your needs easily. With Wishlist Member you will also be able to determine after how many dates a new lesson will be opened to your members using the Sequential Upgrade feature. For example: you can determine that a week after a member registers your site he will get access to a new lesson and so on.
Product/ Service Model – If you have a product or a service you want to sell, you can easily set up your members area, affiliates area, members log-in page, sales letter etc. and quickly turn your website to a membership site.
Go to OptimizePress Homepage
Go to Wishlist Member Homepage
How Can OptimizePress Easily Create the Type of Website You Need?
With OptimizePress you simply need to choose the template you need and fill-in the options as you can see below:
Template Gallery
There are many different types of templates, so you can choose the best one that suits your needs.
Squeeze Pages
There are 11 different squeeze pages combinations that include some or all of these features: header, video, fake video, ecover, optin-box arrow, navigation bar and a sidebar.
These are only three samples that will give you an idea how easy it is to set-up your squeeze page and how it can look like:
Sales Letters
There are 4 different sales pages combinations that include some or all these entire feature: header, sidebar, videos in different dimensions and mailing list fields.
You can easily create your sales letter using OptimizePress shortcodes for headers, testimonial boxes, Money Back Guarantee boxes, content boxes, Add to Cart buttons and more. You can fully customize your sales letter very quickly and easily.
Check out some of the sales letters templates below:
Launch Pages
There are 4 different launch pages combinations with many options for placing your video sidebar.
The OptimizePress team really thought about everything when they developed OptimizePress, because these launch pages templates are especially optimized to boost your offer.
These are some of the available templates for creating converting launch pages:
Membership Pages
There are 4 different membership pages combinations that include: video, materials download and a log-in page.
You can easily choose the template you need for each page you create and easily create all the pages you need for your membership site: your members area, dashboard, members login page, error pages etc.
These are a few of the available templates you can create using OptimizePress:
Blog Page
If you want to add a blog to your website, you can do that by using OptimizePress blog template.
You can see an example in our product Wishlist Registration Widget website: http://wishlistregistrationwidget.com/blog 
OptimizePress Custom Shortcodes
You can easily create any type of the above websites by using OptimizePress's special shortcodes.
These powerful shortcodes actually make this theme so powerful.
It may look scary at first, but trust me, in a few minutes you will know exactly how to use them.
All you need to do is choose a shortcode and click on "Add to Page" as shown in the below screenshots:
How We Are Using OptimizePress and Wishlist Member for Our Membership Sites
We love creating our products websites using OptimizePress and Wishlist Member since it's so easy and simple to do it.
I will give your a quick "sneak peak" at how our membership pages look like so you will see how OptimizePress and Wishlist combine together perfectly.
Go to OptimizePress Homepage Go to Wishlist Member Homepage
Did You Like My Review?
I would be more than happy to hear your thoughts in the comments section.