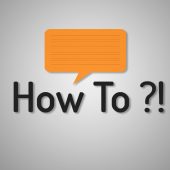 This How to question comes from Paul who wants to know if it's possible to register his email subscribers to his membership site without making them fill in a member registration form.
Paul's question: 
"I want to offer my email subscribers to join my free membership, but I want them to be able to join quickly, without making them fill-in 2 forms, one for the newsletter and one for my membership site. How can I achieve that?"
How to Register Email Subscribers to any Free Membership in 1-Click:
Answer:
Using Wishlist 1-Click Registration you can register members to your free membership straight from your autoresponder quickly and in one click.
After installing the plugin, go to the Generator tab and select the relevant membership level, autoresponder and thank you page.
Then click to generate the registration link.
Now copy the autoresponder link and paste it in the email you want to send to your subscribers (the link can be a regular text or an image)
Once a subscriber will click on the link he will be automatically registered to your membership site.
That simple!
For more information go to Wishlist 1-Click Registration at HappyPlugins.com