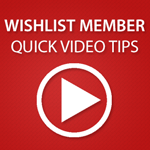 bbPress is one of the most popular forum platforms, and we noticed that many of our clients tried to integrate bbPress with their Wishlist Member membership site, but noticed that the integration does not work 100% .
The Problems with Integrating Wishlist Member & bbPress
If you have already tried to integrate your membership site with bbPress forum you may have discovered that:
1. It is not possible to protect topics and replies created by your forum members automatically.
This means that you must enter each and every topic and reply and change their protection settings manually… Quite impossible to maintain and manage.
It also means that whenever a non-member will try to access the direct link of a topic / reply he will be able to see its content.
2. It's not possible to protect the main forum's index page, I.E: http://yourdomain.com/forums
If you want to prevent non members from even having the ability to access the main forums' page, then just by integrating Wishlist Member and bbPress you cannot do it.
That is exactly why we developed Wishlist bbPress Protection plugin, as it solves these exact issues and more.
In the short video tutorial below you can get a quick overview of Wishlist bbPress Protection and get a close look at its features and how easy it is to activate and use: