Long Tail Pro Review

April 19, 2012

0 Comments
As you probably know, one of the most important things in internet marketing is a good and thorough keyword research. Over the years I've used different soft-wares for keyword research, and Long Tail Pro is one of the best softwares I've used this far.
Long Tail Pro is very efficient and reliable when it comes to keyword research. It is a desktop application so you can quickly access it without having to open your web browser. Once you make your purchase, you can easily install it to your computer.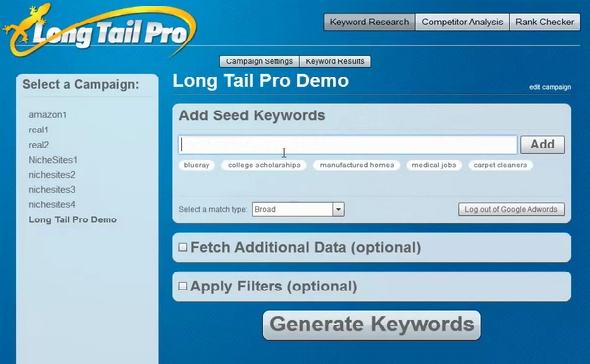 Why I chose Long Tail Pro over other keyword Research Tools
First of all, Long Tail Pro is faster than any other keyword research tool I've used in the past, and time is very valuable to me, so I prefer investing in the right tools that will save me time. Long Tail Pro has to others are lacking in would be its time-efficient performance where it gives you profitable keywords, even from multiple seeds, as well as competition analysis really fast.
With Long Tail Pro, I can also avoid bad keywords that have absolutely no chance of being searched. This only means that I will be working on results that would let me make my website more search-able and profitable.
There are several other keyword research tools out there such as Google Keyword Research Tool and Market Samurai. I have already tried using both of them but I just love Long Tail Pro more. In addition, Market Samurai, considering that it is more expensive, also works slower and more complexly than Long Tail Pro in searching for keywords and checking for domain availability.
Why I Really Love Long Tail Pro?
My favorite part about Long Tail Pro is that I am able to filter the keyword results based on a specific criterion I am looking for. Through this, I am able to really narrow down the potential keywords that I should work on.
I also appreciate the fact that Long Tail Pro is very easy to maneuver through. I am able to get what I need in just a few minutes of going over this software, no confusions whatsoever.
Even if Long Tail Pro cost me $100, I am very happy with the results I am getting from it now. It is also great that I just had to give a onetime payment since there are other tools, like SECockpit, that have a monthly fee.
Long Tail Pro and Wishlist Member
It's a real bummer putting a lot of effort in building a membership website and then discovering the niche you chose is not good enough and it doesn't have enough searches.
That's why you need to do a thorough research and discover what are the best niches that will surely bring you money.
I started using Long Tail Pro to find niches, and so far it is going great. I already built a few membership websites with the help of Long Tail Pro and I am already seeing results.
I have no doubt that Long Tail Pro will find you the best niches on the market and save you a lot of time in searching for good niches.
My Conclusion on Long Tail Pro
Long Tail Pro is truly amazing when it comes to searching for niches that would really drive traffic, and it's definitely perfect for both beginners and experts in internet marketing.
Discover how Long Tail Pro can make you money here