Wishlist Coupon 2.0

March 8, 2014

8 Comments
Wishlist Coupon 2.0 allows you to offer discount coupons which can be applied when users purchase membership levels.
The coupons can be easily added to any post or page using simple shortcodes and you can customize the coupons according to your needs.
You can set the coupons to be valid only for limited number of days/ for limited quantity or for limited number of days after registration.
Wishlist Coupon 2.0 also gives you detailed reports about the different users, how many coupons they have used and whether they completed the purchase through the coupon or not.
Also, you can view tracking information whenever a successful transaction is done through a coupon.
How Can Wishlist Coupon 2.0 Increase Your Revenues
Using coupons is a great way to create urgency and increase sales to your membership site.
With Wishlist Coupon 2.0 you can attract new members by giving them special coupons which will be valid only for limited amount of time after they complete the registration process.
You can also monetize your membership site by offering existing members coupons for upgrading to higher membership levels or for purchasing other products or services you offer.
Also, you can track every member's status regarding the coupons, who started the purchase process using a coupon, which members use coupons, which haven't and more.
There are many ways you can increase your revenues by using coupons and Wishlist Coupon 2.0 can help you achieve it more easily.
Wishlist Coupon 2.0 Tutorial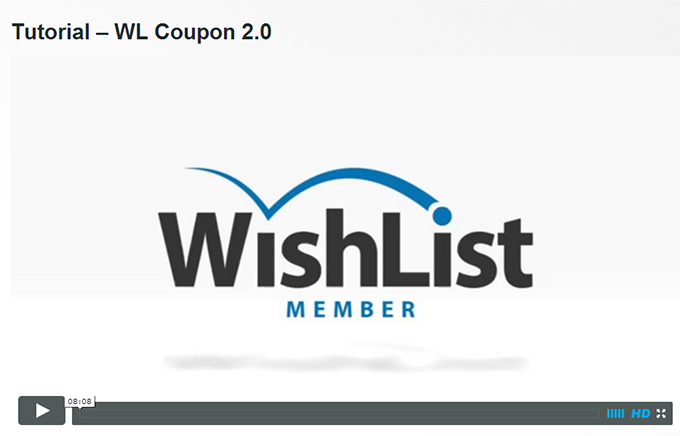 How Can You Get Wishlist Coupon 2.0?
Wishlist Coupon 2.0 is now available for purchase for Wishlist Member clients only using credits.
You may already have credits inside your account.
If you do, you can use these credits to purchase the plugins you need from the long list of excellent plugins Wishlist offers for sale.
If you don't have enough credits, don't worry!
You can purchase extra credits straight from your account.
Check Our Wishlist Member Tips Series
These are only some of the tips you will find (must be logged-in):
Not a Member Yet?
Register for free using the form to your right.
Want to Get Wishlist Upcoming Bonus Plugins?
Wishlist Insider is a premium training, resources, forum and support for membership sites owners.
Wishlist Insider includes: Live training, webinars, videos, audio lessons, tips, marketing materials from the Wishlist Insider team and monthly BONUS plugins.
Join the Insider community and start building successful membership sites!
Read our full review on Wishlist Insider or click here to join today!