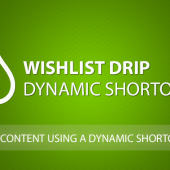 Urgency is the key word here…
This how you create it and why you should do so…
>> Create urgency among members to consume your content before it disappears
>> Increase their engagement and involvement in your content
>> Increase your retention rates (as more involvement will reduce abandon rates)
>> Eventually will increase your overall income and revenues!
But how can you create this urgency in the first place??
Simply!
Using Wishlist Drip Dynamic Shortcodes plugin you can archive ANY content on your membership site after any period of time you want!
So if members will not consume the content until that time. it will "disappear" (archived).
Customers who purchased this plugin report that this feature is extremely useful for increasing members involvement!
If you also want to increase your retention rates and revenues you MUST use this plugin!
All the information about the Wishlist Drip Dynamic Shortcodes in this link
Got any questions? Feel free to contact our support