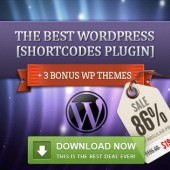 Shortcodes is probably one of the things I enjoy most in WordPress.
Shortcodes just make your life easier and they let you do  the job much faster.
You can find free plugins that will add WordPress shortcodes to your blog or website, but there are some very powerful shortcodes that are just worth buying, like the Lizatom Shortcodes.
Mighty Deals has published a time limit bundle that include WordPress Lizatom Shorcodes plugin.
In the Lizatom package you will find more than 5,000 WordPress shortcodes in many different categories including: