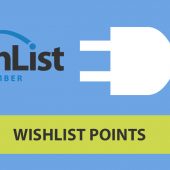 Wishlist Points is one very powerful plugin, maybe even the most powerful one the Wishlist team has released so far.
Wishlist Points a gamification plugin that allows your members to earn points based on different actions they perform inside your membership site.
Gamification has a huge psychological effect on the human mind, and it drives people to perform different actions in order to be granted with points.
Wishlist Points allows you to award points for different activities your members do: