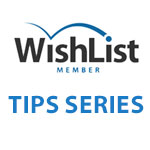 In this tip we gathered the most popular plugins we are using to make our lives much easier when building and managing our membership sites and our clients' membership sites.
This a list we share only with our clients and we built it since we noticed that many are not familiar with these plugins, and we wanted to save them time in the process of building their sites.
This is a complete suit of plugins that is extremely useful and saves valuable time.
The list is divided to both free and paid plugins.
We hope you will benefit from it as much as we do!
Register for Free to Get Access

Register to our FREE membership on the form to your right and get immediate access to this tip and to all the upcoming tips about Wishlist Member.